Franklin Senior Walking Club
The Franklin Walking Club meets once a week on Thursdays from 9:00 am – 11:00 pm at the Franklin Sports Complex, 6000 W. Ryan Rd.
You can walk rain and shine. Best of all, you are exercising, meeting new friends and have an opportunity to get out of the house.
Contact David and Judy Beine
@414-421-3490
On April 20, 2017, Russ and Pat Sepanski and Tom and Leona Kuehn announced that their five-year commitment to lead the Franklin Senior Walking Club had been fulfilled and they would be resigning. Mary Wishmann will continue to record membership and mileage logs. We thank the Sepanski's and Kuehn's for their many years of dedication in keeping the Walking Club walking.
Pictured left to right: Tom Kuehn, Leona Kuehn, Pat Sepanski, Russ Sepanski, Mary Wishmann
The Franklin Senior Walking Club celebrated their 15 years anniversary with a walking party!
FRANKLIN SENIORS WALKING CLUB – HISTORY
The Franklin Seniors Walking Club is a non-profit group that was formed in April 2002 by a group of individuals from the Franklin Senior Citizens, Inc. who were interested in improving their health, fitness and social involvement. It was later expanded to include seniors from all of Milwaukee County. The goal was to provide a place for seniors to walk as a group or individually in a safe environment.
PRESENT COMMITTEE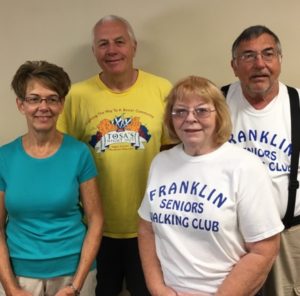 ACTIVITIES