The Franklin Seniors Walking Club is a non-profit group that was formed in April 2002 by a group of individuals from the Franklin Senior Citizens, Inc. who were interested in improving their health, fitness and social involvement. It was later expanded to include seniors from all of Milwaukee County. The goal was to provide a place for seniors to walk as a group or individually in a safe environment.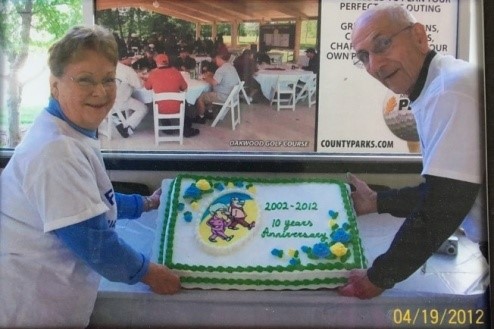 The Franklin Seniors Walking Club was led by Ed Waldoch with committee members Marilyn Waldoch, Betty and Tom Nowicki until April 2012. Members meet on Thursday from 9:00 am to 11:00 am at the Milwaukee County Sports Complex on 60th and Ryan Road, Franklin. The County currently donates the weekly use of the indoor facility that has a level floor for handicap accessibility and a special surface in the field house for walking. There is also access to the outside paved Oak Leaf Trail.
The group started with 39 members. By the end of the first year, membership increased from 28 to 116 people and 10,075 miles were reportedly walked by the group. A total of 337 members joined from 2002-2012 at which time membership totaled 153 active members. Some had moved, become ill or disabled and some didn't stay. Not everyone came every week, but the average was about 50. After members have not come for two years, they are moved to an inactive list in case they decide to return.
Each week members log the miles they walk on Thursday and during the week. Walking inside 5 times around the track is 1 mile. It is an incentive, not a contest to see how much you walk in a month/year.
Membership:
– No annual dues, just a one-time registration fee of $5 which includes a club t-shirt.
– A weekly $1.00 donation is used to offset the cost of coffee and cookies after walking, raffles, club
activities, contest awards and food for our anniversary party, picnic and Christmas party. It comes right
back to the active members.
Community Service: seven benches were built by members to serve as quarter-mile markers and rest stops on the Oak Leaf Trail between the complex and West Drexel Avenue. A Franklin Seniors Walking Club paver was donated to the entrance at the new Franklin Library.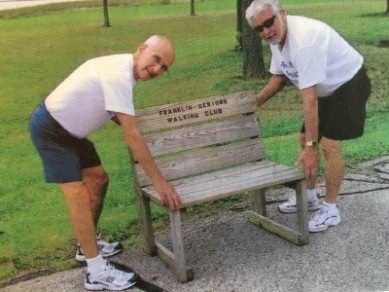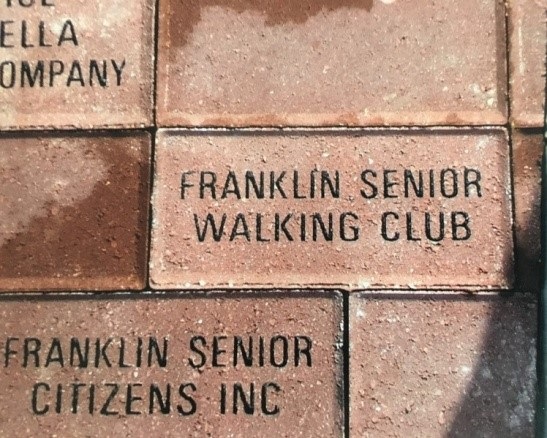 In May, 2012 Russ Sepanski accepted new leadership with committee, Pat Sepanski, Tom and Leona Kuehn and Mary Wishmann. Russ encourages the members with his motto, "Get Up, Get Out, Get Going." As of January, 2016 – 106 new members have joined since 2012 and active monthly membership is 155.
Community Service:
2013 – Donated bird houses which were put on posts along the Oak Leaf Trail to Puetz Rd.
2014 – Donation to Milw. County Sports Complex for the purchase of perennial plants by door entrance.
2014 – Russ was instrumental in obtaining help from Milwaukee County and local Franklin government officials to have an AED (Defibrillator) installed at the Sports Complex. The life saving device serves all sports participants, spectators and users of the Complex. An AED unit was donated by the Surgery Center in Franklin.
2015 – Donation of Hosta plants for the Sports Complex door entrance.
2015 – Wellness Day – Health Dept at Franklin Library
Since the Walking Club began until January 2016, walkers have a total accumulation of 325,903.86 miles. The moon is about 238,855 miles from the earth. As a group, we could have walked to the moon, around its dark side, and are now about a quarter the way back. Keep walking!